The word collagen comes from a Greek word that means "glue." This is a very accurate description as this protein is found in all connective tissues, which as the name suggests, are the tissues that hold our bodies together.
This protein makes up a third of all the protein in your body, and is necessary for healthy muscles, joints, and skin. Collagen is even found in our bones and blood! As we age, our collagen levels start to decline, which is what many believe to be the cause of the "aches and pains" we feel as we get older. Without enough of this structural protein our joints will not have the flexibility or strength to move freely and pain-free. This is due to the fact that collagen makes up all the supporting structures like the ligaments, tendons, cartilage, and the synovial membranes that keep our joints lubricated. If these structures start to breakdown due to wear/tear, poor diet, poor hydration, or a lack of collagen, you will start to see signs and symptoms of arthritis.
Collagen is also in many beauty products as it is so beneficial to the skin and necessary to maintain that youthful elasticity and fullness. Many people even remark on the new thickness and shine to their hair and nails! However, the best way to absorb collagen is through internal digestion, not topically. The collagen molecules are so large they are often not absorbed through the skin very effectively. So, if you are wanting to enjoy the many benefits of collagen it is best to get it through a supplement and foods. As a supplement you will usually see collagen as a hydrolyzed powder that is added to water or a type of smoothie. A main food source of complete collagen is bone broth. Otherwise, eating foods rich in various amino acids, vitamin C, and Silica will help provide your body with the ingredients needed to make collagen.
My recommendation is this collagen powder that contains all 5 of the different types of collagen that support all the connective structures in your body. This product also contains Immune system molecules, Transfer Factors, to educate and increase the productivity of your Immune system. The combination of these two things makes this my absolute favorite anti-aging supplement. The collagen is sourced from fish, chicken bone broth, and egg shell membranes. In this powder there is also Vitamins A,C, E and Biotin (b7). Simply add one packet in a glass of water and drink. The strawberry-mango flavor makes it a treat!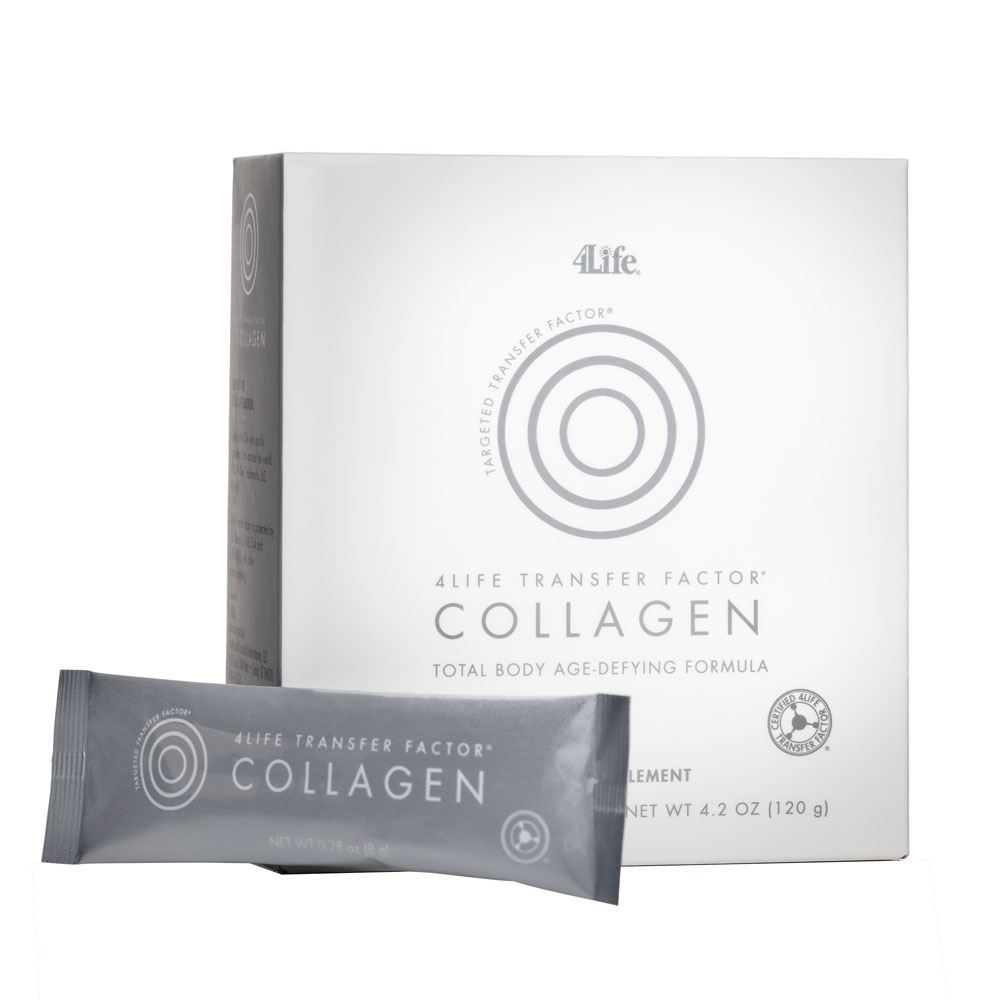 ---
Disclaimer: Information and statements regarding dietary supplements/products have not been evaluated by the Food and Drug Administration and are not intended to diagnose, treat, cure, or prevent any disease. Information on this website is provided for informational purposes only and is a result of practice and experience by the author. This information is not intended as a substitute for the advice provided by your physician or other healthcare professional or any information contained on or in any product label or packaging. Do not use the information on this website for diagnosing or treating a health problem or disease, or prescribing medication or other treatment. Always speak with your physician or other healthcare professional before taking any medication or nutritional, herbal, or homeopathic supplement, or using any treatment for a health problem. If you have or suspect that you have a medical problem, contact your healthcare provider promptly. Do not disregard professional medical advice or delay in seeking professional advice because of something you have read on this website.